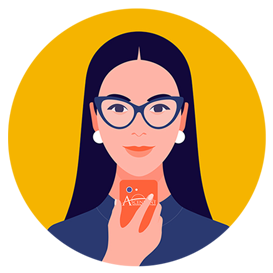 Meet Anastela - Savvy Insurance AgentYour Guide in the ASSIST Program
Let her show you how to best utilize our products & services...
Ascendant Insurance Solutions maintains a leadership role in the insurance industry with innovative tools and solutions to help producers cross-sell to prospects and existing clients, service and retain VIP clients, increase business retention levels and expedite submission process for faster quotes through its ASSIST program.
Anastela, our savvy insurance partner, has taken advantage of these innovative tools and is enjoying the benefits of this valuable partnership. She is ready to assist you and guide you to take full advantage of the many opportunities made available to you as a valued Ascendant agency partner. She will show you how to increase your revenue, drive in more business, cross-sell to your existing clients and save time by expediting your quotes, bind requests and policy printing online.
ASSIST is tailored to provide agency partners with the following sales support insurance solutions tools to help them develop a strong business network between the agent, policyholder and partner carriers. Let Anastela help you explore all of these wonderful opportunities:
Lead Generation and Business Referral
Cross-Selling
ASAP
Co-op Advertising
Commission & Incentive Rewards
API Capabilities
VIP Client Relations
Aggressive Dividend Plans
Risk Management Services
Business Retention Specialists
Website (English and Spanish)
Ascendant Mobile App
Re-quote Last Year's Submissions/Renewals
Brand Recognition- Social Media Presence
Community Involvement/Support
Stay tuned for messages from Anastela and a series of educational video clips and story lines to help you reach her same level of success.
---
Anastela's Guide to Agent Success
Learn How Anastela Finds a Viable Workers' Compensation Solution for Diego's Restaurant
How to Search Insurance Coverages by Business and Industry Type on the Ascendant Website
How to Develops a Workers' Compensation Niche Market through Market Research
New Workers' Comp and General Liability Market for Tree Trimmers and Landscapers