Ascendant Financial Results 2020
Ascendant Commercial Insurance Announces Another Year of Profitability, Growth & Financial Strength for 2020
Strength in Partnerships
Ascendant achieves continued financial growth amid a year of unprecedented, worldwide challenges by working together with our agency partners & policyholders to attain mutual success.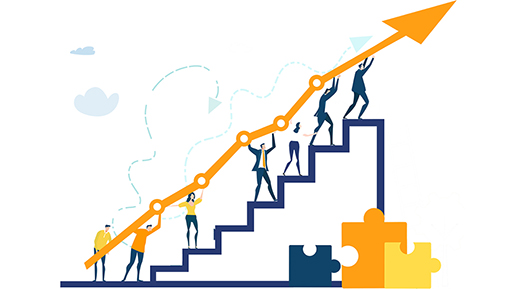 ---
Ascendant Commercial Insurance, Inc. ("Ascendant") is proud to announce its 9th consecutive year of profitability and growth in policyholders' surplus. Despite the various challenges presented as a result of the worldwide COVID-19 pandemic, Ascendant's disciplined approach to risk management helped produce the following results for the year ending December 31, 2020:
Direct Written Premium of $98.5 million as compared to $94.4 million in 2019, an increase of $4.1 million (+4.4%).
The year over year increase in Direct Written Premium came from continued growth in the Company's core product lines of Workers' Compensation which increased by $4.4 million (+10.5%) to $46.3 million and Commercial Auto which increased by $6.1 million (+22.3%) to $33.7 million.
Cash and invested assets of $48.6 million, an increase of $11.5 million (+31.2%) from $37.1 million at year-end 2019.
Total admitted assets of $102.6 million, an increase of $16.3 million (+18.8%) from $86.4 million at year-end 2019. With nearly half of its total admitted assets in Cash and invested assets, Ascendant's liquidity is well positioned to meet the current and future obligations of its policyholders.
Net Income (after taxes) of $1.8 million as compared to $1.1 million in 2019, an increase of $0.7 million (+63.6%).
Ending Policyholders' Surplus of $15.4 million, an increase of $2.0 million (+14.9%) from year-end 2019, and another record high for Ascendant.
Risk Based Capital Ratio of 342%, with Adjusted Capital of $6.4 million (+70.9%) above its $9.0 million regulatory requirement.
Ascendant's financial position is further bolstered by risk-sharing reinsurance contracts with its exclusive reinsurance partner, General Reinsurance Corporation ("Gen Re"). Gen Re reported $45.9 billion in total assets and $15.4 Billion in shareholders' equity as reported in its most-recently published financial statements, and currently holds financial strength ratings of "A++" (Superior) by A.M. Best, "Aa1" by Moody's and "AA+" by Standard & Poor's.
The year 2020 was filled with historic, global uncertainty and Ascendant is proud to have been in a position to offer accommodations and innovative solutions to its policyholders and agents in order to withstand, and in many cases, thrive during these turbulent times.
We are thankful for the trust that our agents and policyholders have continued to place with us over the past 11 years. With nearly 200,000 policies totaling nearly $700 million in premium written since its inception, Ascendant remains as resolved as ever to being the insurer of choice for small and medium sized businesses throughout the state of Florida.