Ascendant 2019 Financial Highlights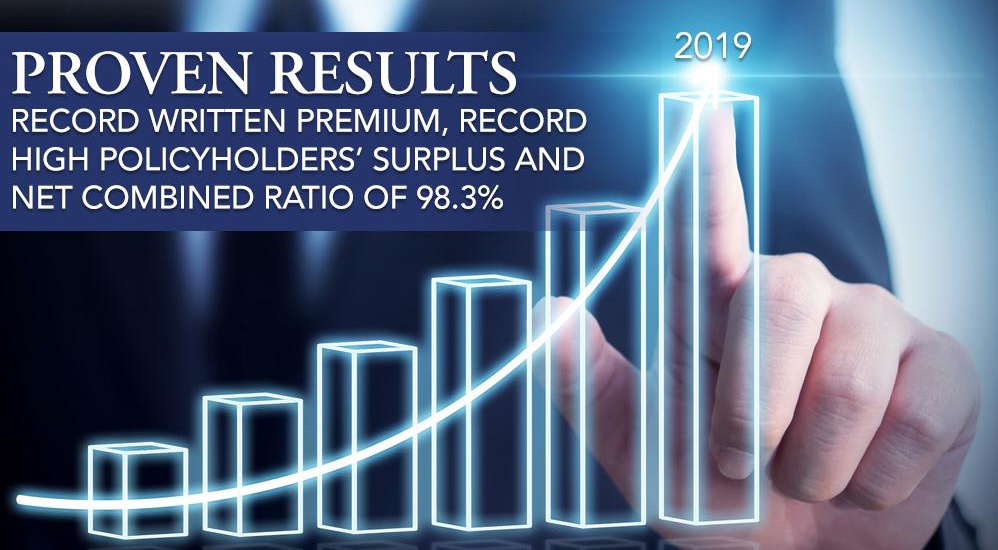 Ascendant Announces Record Written Premium and Policyholders' Surplus
Ascendant's 2019 annual financial statement, as filed with the Florida Office of Insurance Regulation, contained the following results:
Direct Premium Written of $94.4 million, an increase of $12.5 million (+15.2%) vs. $81.9 million in 2018
Continued growth in its core lines of business, in which Workers' Compensation grew by nearly $5 million (+12.3%) & Commercial Auto by nearly $8 million (+19.5%) from 2018
Net Combined Ratio of 98.3% for 2019
Net Income before taxes of $2.1 million vs. $2.0 million in 2018
Total admitted assets of over $86.4 million, an increase of $14.5 million (+20.2%) from $71.9 million at year-end 2018
Ending Policyholders' Surplus of $13.4 million, an increase of over 8.6% from year-end 2018 and another record high for Ascendant
Ascendant's solid financial position was bolstered in 2019 through the purchase of additional excess of loss reinsurance protection in its core lines of Workers' Compensation and Commercial Auto Liability from its exclusive reinsurance partner, General Reinsurance Corporation ("Gen Re"). Gen Re reported $41.2 Billion in total assets, $13.3 Billion in shareholders' equity as of December 31, 2019, and currently holds financial strength ratings of "A++" (Superior) by A.M. Best, "Aa1" by Moody's and "AA+" by Standard & Poor's, which adds substantial additional protection to Ascendant's policyholders.
As we celebrate our 10-year anniversary, we are proud of our many accomplishments, including having written over $600 million in premium since inception. Ascendant also continues to be the largest Hispanic-owned property and casualty headquartered in Florida, and was recently recognized as the 13th largest Hispanic-owned business in South Florida by The South Florida Business Journal (based on 2018 revenue). We also take pride in being the market of choice to Hispanic-owned small to medium-sized businesses and agencies throughout Florida.
During times of uncertainty in the Florida insurance marketplace, Ascendant continues to thrive with a proven track record of profitable and disciplined growth, innovative technological advancements, and a unique ability to underwrite, service and adjudicate claims fluently in English and Spanish.
We understand the responsibility we have to our community and especially to our children, with our continued support of the Live Like Bella Childhood Cancer Foundation, Nicklaus Children's Hospital Foundation, Step Up for Students, and United Way of Miami-Dade.
We would like to thank all of our policyholders, agency partners, our employees and their families for their belief and confidence in Ascendant over the past decade, without whom our achievements would not be possible. We enter 2020 with an enormous amount of pride and humility, but also with an incredible amount of enthusiasm and excitement of what the next decade will bring.