Ascendant Financial Results 2018
Ascendant Announces Near-Record Financial Results for 2018
Ascendant Commercial Insurance, Inc. ("Ascendant") is pleased to announce yet another year of consistent profitability coupled with growth in net writings and very favorable underwriting results:
Direct Premium Written of nearly $82 million and nearly $600 million since inception
Net Income of nearly $1.5 million, an increase of over 50% from 2017
Total admitted assets of over $71 million, an increase of over 12% from 2017
Policyholders' Surplus of $12.4 million, an increase of over 9% from 2017
Seven consecutive years of Net Income, cumulatively totaling nearly $7 million
Risk Based Capital ratio of 360%, well above the 200% minimum requirement in Florida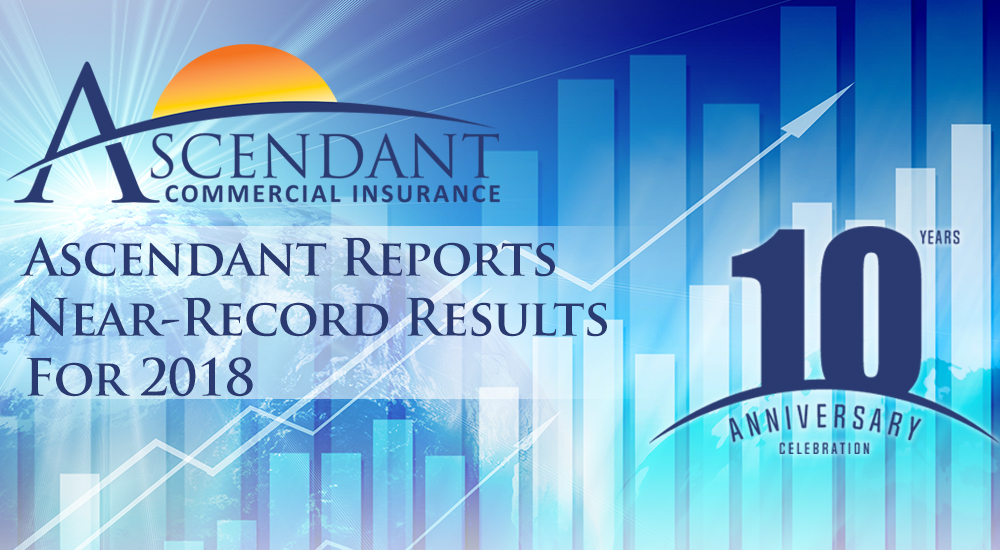 ---
Ascendant's solid financial strength is augmented by its exclusive reinsurance partnership with General Reinsurance Corporation ("Gen Re"), with $34 billion in total assets, $14 billion in capital, and a financial strength rating of "A++" (Superior) by A.M. Best.
During 2018, Ascendant was recognized as the 10th largest Hispanic-owned business in South Florida by The South Florida Business Journal, up from #23 in the previous year, while continuing as one of the largest Hispanic owned property and casualty carriers headquartered in Florida.
Ascendant is the market of choice to Hispanic owned and operated agencies and businesses throughout Florida given Ascendant's unique ability to underwrite, service, and adjudicate claims fluently in English and Spanish.
Ascendant continues to be an active participant in our community and charitable organizations, with a particular emphasis on improving the lives of children, with its ongoing support of Step Up for Students, Live Like Bella Childhood Cancer Foundation, and the Nicklaus Children's Hospital Foundation.
Ascendant enters 2019 stronger than ever, with more reserves than at any point in its history, more reinsurance support than at any point in its history, and more policyholders' surplus than at any point in its history. Simply stated, Ascendant is in a very strong financial position. We look forward to celebrating our 10th anniversary during 2019 with our more than 1,500 active agency partners, most of who have written with Ascendant since the Company's inception.
Our partnership is stronger than ever, and our future is very, very bright.